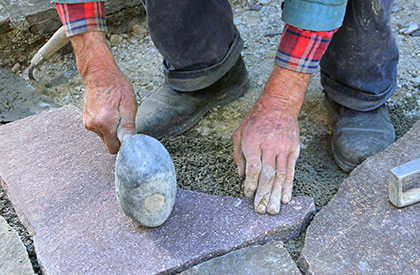 Interlocking is a widespread choice for any part of property landscaping. It can be used for Driveways, Walkways, Porches, Patios, Retaining Walls, etc. The advantage of interlocking is that over time, it can be re-levelled and withstand changing climates, which would take a toll on concrete and asphalt surfaces. There is never a worry about cracking or sinking and of course you can save yourself a bundle avoiding repairs, as re-levelling is inexpensive in comparison.
With many years of experience in interlocking and paving installations, we will help you create a distinctive design element that will enhance the appeal of your home, increase its value and offer a unique look that only we can offer. We take pride in all our work and offer written guarantees as well as a lifetime guaranty on the structural integrity offered by the manufacturer. All of our employees are experienced and well trained in installing and working together to provide a superior amount of quality, workmanship and customer satisfaction.
We have always been about customers first. We have all of the latest tools and equipment to accommodate any size job.
We plan every project to the last detail before beginning work, ensuring the appropriate grading for a smooth, durable finish. We only use the highest-quality interlocking materials, and with dozens of combinations of brick, stone and concrete to choose from, you can find options for any home or business.
Efficiency is also important, and at Brick and Stone Art, we constantly renew our installation equipment in order to implement the most advanced techniques available. Our friendly staff will work with you to create the ideal property enhancement, completing your patio, walkway, retaining wall or other feature within your time-frame and budget.
We have installed countless driveways, walkways, retaining walls, steps, and patios of all shapes and sizes. We offer free on-site consultations and estimates for every job, so you can be sure, your project will be tailored and designed to accommodate your requirements.
Create the inviting entrance or backyard that reflects the personality of your home or have us build the unique patio where you can relax and enjoy nature. As a professional Toronto interlocking company, we design and build the proper and sustainable patio, driveway or walkways for your property.
We provide innovative landscaping and interlocking solutions in a personal, cost-effective and timely manner. We have strong relationships with local interlock suppliers and are committed to quality work. We design, build and supervise projects from conception to completion.